Student Helen Toloza, a 2014-15 participant in the Chancellor's Undergraduate Internship Program (CUIP), presents the UCSC Food Map she created.
Wow! That plate looks incredible. Did they go to the ends of the earth to find such amazing food? Well, some of the best foods on the UC Santa Cruz campus come from very nearby, including fruits and vegetables from the 30+ acre UCSC Farm located right in the heart of the campus, and breads, pastries, and desserts baked in our own campus bakery and delivered fresh each and every day.
Not all of the foods served in UCSC dining halls and restaurants originate from quite that close, but a lot of it comes from the Santa Cruz community, the Monterey Bay area, and our Central California region. Eating local is good for the local economy, provides fresher foods that travel less and simply taste better, and it's better for the environment when foods don't have to be shipped long distances.
These efforts to include more locally sourced products align with our REAL FOOD challenge and the University of California Global Food Initiative. Dining will continue to investigate products that become available to our chefs to incorporate into campus menus. This list of foods will become a "living" document to help lead us to a more sustainable and transparent food system.
Want to know where your favorite foods come from? Check the 
UCSC Food Map
. It shows information on more than 20 of UCSC's suppliers, where they're located, and the types of food they grow, raise, and make. Word to the wise... grab a snack, because reading about all this good food might inspire some cravings.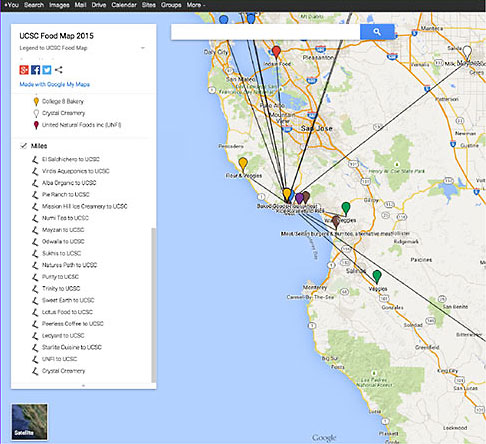 The UCSC Food Map has information including photos/videos about each supplier, the foods they provide, and their distances from the campus.