Buddy Meal Program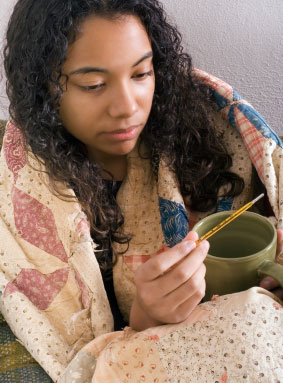 Students who are sick and/or have a fever are encouraged to stay home to recuperate, and to protect the community.
If you have a fever you should isolate yourself until you have gone 24 hours without a fever (without using Tylenol or Ibuprofen).
Notify your professors and your employer that you have isolated yourself for the health of the community.
Ask a roommate, a friend, or your RA to pick up a Buddy Meal from the dining hall.
How to use the Buddy Meal Program

The "Buddy Meal" Program is designed to provide meals to sick students who are unable to leave their residences for health reasons.
If you are picking up a meal for someone who is ill, you will need:
Your student ID card and
The ill student's ID card
Please do the following:
Tell the cashier that a Buddy Meal is needed
Sanitize your hands after handling ID cards, and before handling food
The cashier will ask if you will be eating a meal as well:

If Yes, the cashier will swipe you in to have your own meal; after you eat, return to the cashier for a Buddy Meal box
If No, the cashier will give you a Buddy Meal box with a time stamp
You will have 10 minutes to fill the Buddy Meal box
See
Also