the GET app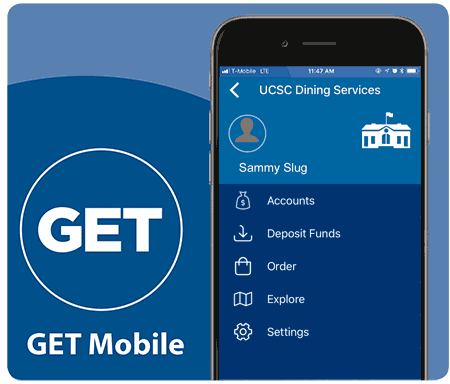 With the GET Mobile app, students can...
Purchase Flexi Dollars
Purchase Slug Meals
Check your account balance
Order food using Flexi$ or your credit/debit card
To purchase Flexi Dollars
Log into the GET app or website, select "Deposit Funds" followed by "Credit Card Purchase" and choose Flexi. When prompted, add your form of payment and choose the amount of Flexi$ you would like to add to your account.
To purchase Slug Meals
Log into the GET app or website, select "Order" followed by "UCSC Dining" and choose the block of Slug Meals you would like to purchase. When prompted, add your form of payment.
Mobile Order
UCSC Dining offers convenient mobile ordering and payment through the GET Mobile app. Students can use the app to order food and pay with their Flexi Dollars or credit/debit card.
Order ahead, skip the line, and pick up your food at the "Mobile Order Pick Up" area inside the restaurant!
This service is currently offered for the following locations:
Banana Joe's
College Eight Cafe
Mobile Order Frequently Asked Questions:
Are there any additional charges when I order online?
There is a $0.25 transaction fee for each order.
How long do I have to pick up my order?
Order must be picked up within 20 minutes of the requested pick-up time. After that, the order will be thrown out for food safety reasons. No refund will be provided.
When can I place an order?
Orders can be placed up to 5 business days in advance. Customer will be charged at the time of the order (not on the day they actually pick up their order).
When can I pick up my order?
You can choose any pick up time during normal business hours, except for early morning and later afternoon/evening hours, when our kitchens will be busy starting up or shutting down for the day.
See
Also