Nutrition and Wellness
On this page:
Whether you have a food allergy, religious food preferences, a vegan/vegetarian diet, or simply need assistance with your food selections, we can provide the resources to help you make delicious choices, safely and easily.
---
Food Allergies
UCSC Dining uses colored icons to identify foods that contain the most common allergens. These icons, shown below, are used on our online menus and on the signs in the dining halls and cafes. 
Although we do our best to meet the needs of students with food allergies, our food is prepared on shared equipment in a kitchen that uses milk, eggs, peanuts, tree nuts, soy, fish, shellfish, wheat, sesame, and other allergens. While we work hard to avoid cross-contact, we are not an allergen-free facility. If you have allergy concerns or need assistance, please speak with a manager. They will support you in having a safe dining experience.

Contains Peanut
 

Contains Tree Nut
 

Gluten Friendly
 

Contains Milk
 

Contains Egg
 

Contains Soy
 

Contains Shellfish
 

Contains Fish
 

Contains Sesame
 

Contains Alcohol
 

Vegetarian
 

Vegan
 

Halal
 

Contains Beef
 
Contains Pork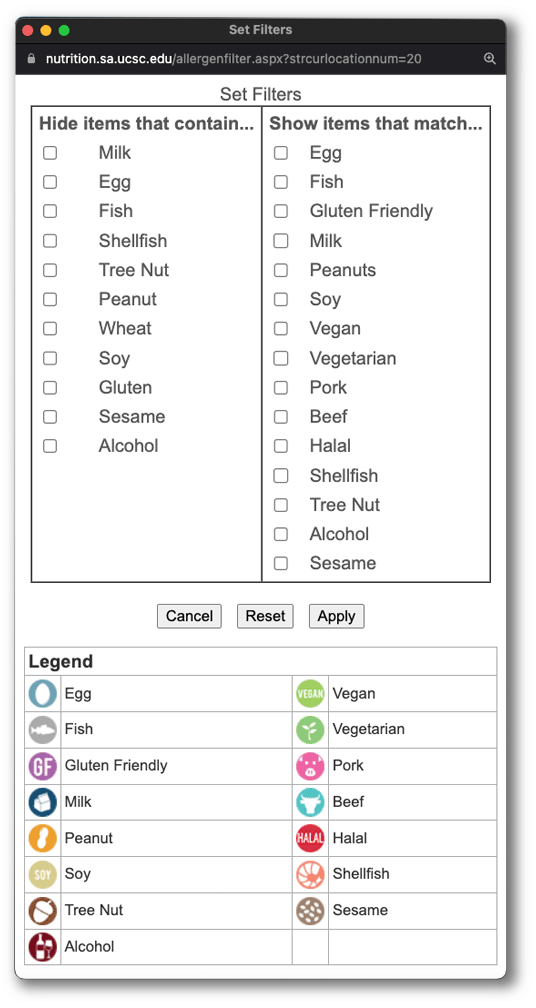 A system of icons is used on the online menus, and on signs at dining halls and cafes, to indicate the most common food allergens and other dietary choices.
Nutrition
Interactive nutrition facts for all of our meals are available through the online menus. You can use the meal calculator to check calorie counts and plan a whole day's eating. Additionally, each dining hall displays printed signs next to each entree or side dish identifying ingredients, nutrition content, allergens, and vegan or vegetarian choices.
Tips for Students with Food Allergies or Special Diets
Meet with a dining hall manager
Dining hall managers are knowledgeable about the options available and can show you which foods will work with your diet.
Consult the online menu
The online allergen filter can show you the menu items that do or do not contain specific allergens for each dining hall location.
Dining Hall Accommodation
We work with students who have food allergies or intolerances, and other special dietary needs, to make sure they get the most from their dining experience.
UC Santa Cruz is committed to access and inclusion in its campus programs and services. Dining Services works in close partnership with students and the Disability Resource Center (DRC) to ensure equal access to UC Santa Cruz Dining facilities.
Students with medical and/or disability-related concerns regarding food and dining access are encouraged to meet with a dining hall manager. Dining hall managers are knowledgeable about the food options available and can recommend which foods will work with specific diets.

Students whose food access needs are not met by dining hall managers are encouraged to meet with Breanna Van Otterloo, Dining's Food Safety and Nutrition Specialist. Breanna works with students to discuss their specific needs and determine how to best address the concerns. Accommodations to dining services may require collaboration between the student, dining staff, and the Disability Resource Center, and documentation from a qualified professional to be considered.
Religious Dietary Guidelines
Certain religious practices restrict dietary intake and necessitate close attention to recipe ingredients. The most commonly restricted foods are certain types of meat, fish, and dairy. We use 
colored icons
to help guests identify the use of such foods.
Vegan and Vegetarian Resources
UC Santa Cruz Dining offers vegan and vegetarian options at every meal! Our community is composed of those with varied dietary lifestyles; we are keenly aware of this and work hard to offer a wide selection of delicious vegetarian, dairy-free, and vegan dining options at every meal. Check out the menus to see what we're serving today!
UC Healthy Beverage Initiative
The UC Healthy Beverage Initiative is part of a UC systemwide effort to encourage consumption of tap water as a healthy, sustainable alternative to sugar-sweetened beverages. Here at UCSC we are increasing access to free filtered tap water by adding water bottle fill stations across campus, and making strides towards reducing sugar sweetened beverage sales.
As of January 6, 2023, soda fountains in the dining halls solely carry zero sugar alternatives. This is a great step towards creating a healthy beverage environment on our campus. Learn more »