Table Tents
Table tent reservations are unavailable during academic year 2021-22. We expect the table tent program to restart fall 2022. This page will be updated once we are able to accept reservation requests. Thank you!
Page updated: May 23, 2022
Table tents in UCSC dining halls are a great way to share information with diners.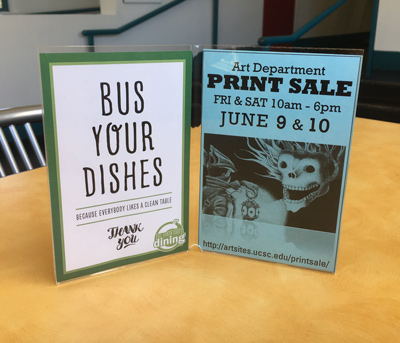 A well-designed table tent with a clear, to the point message can be an effective way to share information (see example.) For best results, use the template provided when creating your table tents.
We recommend that you reserve your table tent as early as possible (a minimum of three weeks in advance is recommended) by filling out this form. Once your form is received, you will be sent an approval notification. 
NOTE: Submitting your request does not guarantee table tent advertising space.


Table Tent Policy/Frequently Asked Questions about table tents:
1. Can any organization, business or department advertise events or information?
Yes, any campus group can submit a request. Only those with an approved reservations will have their inserts appear in the dining hall.
2. How do I request a table tent reservation?
Fill out this form to submit a request. It may take us at least two working days to respond with a confirmation or declination.
3. Why do I have to reserve space?
This enables us to share the space with everyone and control the practice of "covering up" another groups insert, which is frustrating to everyone! Especially to the group who took the time to reserve space, produce the insert and then find out no one had the chance to see it.
4. Who determines the priority of placement for space?
The acrylic table tents are the property of UC Santa Cruz Dining. The Dining Marketing Coordinator maintains a master reservation calendar. The dates are approved on a first come first reserved basis with priority to dated dining/housing information. College programming is given the next priority.
5. What if I am from the college programming office and just want to place inserts at my specific dining hall?
Please fill out the form as usual, and the coordinator will make certain that the space has not been promised to another organization or department. Once approved, deliver your inserts to the coordinator on or before the Tuesday prior to your reservation. 
6. What size are table tents?
Table tents must be 4 inches wide by 6 inches tall. Make sure that your information is clear and font sizes are large enough to be easily read from across the table. Remember, keep your information clear and to the point. Print table tent on ONE-SIDE only. Use the template provided when creating your table tents (available at the top of this web page)
7. Where can I have my table tents printed?
Table tents can be easily printed at the UCSC Copy Center in color, or in black and white on a variety of color papers. Just save your table tent as a PDF and email it with printing instructions to copy@ucsc.edu. The copy center will quote you the price for printing and cutting (delivery is no charge).The Copy Center can print and cut them for you and send them directly to Dining Services. Please be sure to indicate that the order is for Dining table tents and when Dining needs to receive the order by.
8. How many do I need to produce?
If you have been approved for all five dining halls you need to make and cut 330 inserts. For individual dining halls:
Cowell/Stevenson Dining Hall - 60 inserts
Crown/Merrill Dining Hall - 60 inserts
Rachel Carson/Oakes Dining Hall - 80 inserts
College Nine/John R. Lewis Dining Hall - 80 inserts
Porter/Kresge Dining Hall - 50 inserts
9. Where do I send them when I have them ready?
After approval of your date, send your inserts via campus mail to:
Name: Dining Marketing Coordinator, Mail stop: Student Housing Services,
Or deliver them personally to:
 

Student Housing Services

 - Dining Marketing Coordinator, 104 Hahn Student Services 
Inserts must be received at our Hahn office location no later than the Tuesday prior to the week you have reserved - NO EXCEPTIONS.
 Reservation will be forfeited if inserts arrive after this deadline date.
NOTE: Plan your delivery accordingly as the campus mail schedules may change; we have no accommodations in place for individual dining hall drop off.
10. How long can my insert remain in the table tent?
Maximum is seven days. Weeks run Sunday to Sunday. Due to the volume of requests, reservations are for a maximum of one week, per month, per club/org/department.
Just a few reminders:
Space is generally reserved/full three weeks out, especially at the beginning and end of each quarter.

Qualified group promotions or events are allowed as long as the content and graphics are not offensive - or reference alcohol or drugs. The Dining Marketing Coordinator has the right to refuse any inserts not meeting these guidelines.
Fill out this form to submit a request. It may take us at least two working days to respond with a confirmation or declination.
See
Also