Special Hours - Spring Break Dining Information
On this page:
Meal Plan Information
Winter quarter 5-Day and 7-Day Meal Plans will expire at 8PM on Friday, March 19. If you have any Flexi Dollars remaining in your account, those will not expire, and will continue to be available for you to use. 
$8.75 per meal
Dining service will be available for students staying on campus during spring break, at an additional charge of $8.75 per meal. Slug Meals will also be accepted. The dining hall does not accept cash at this time.
Discounted Spring Break meals available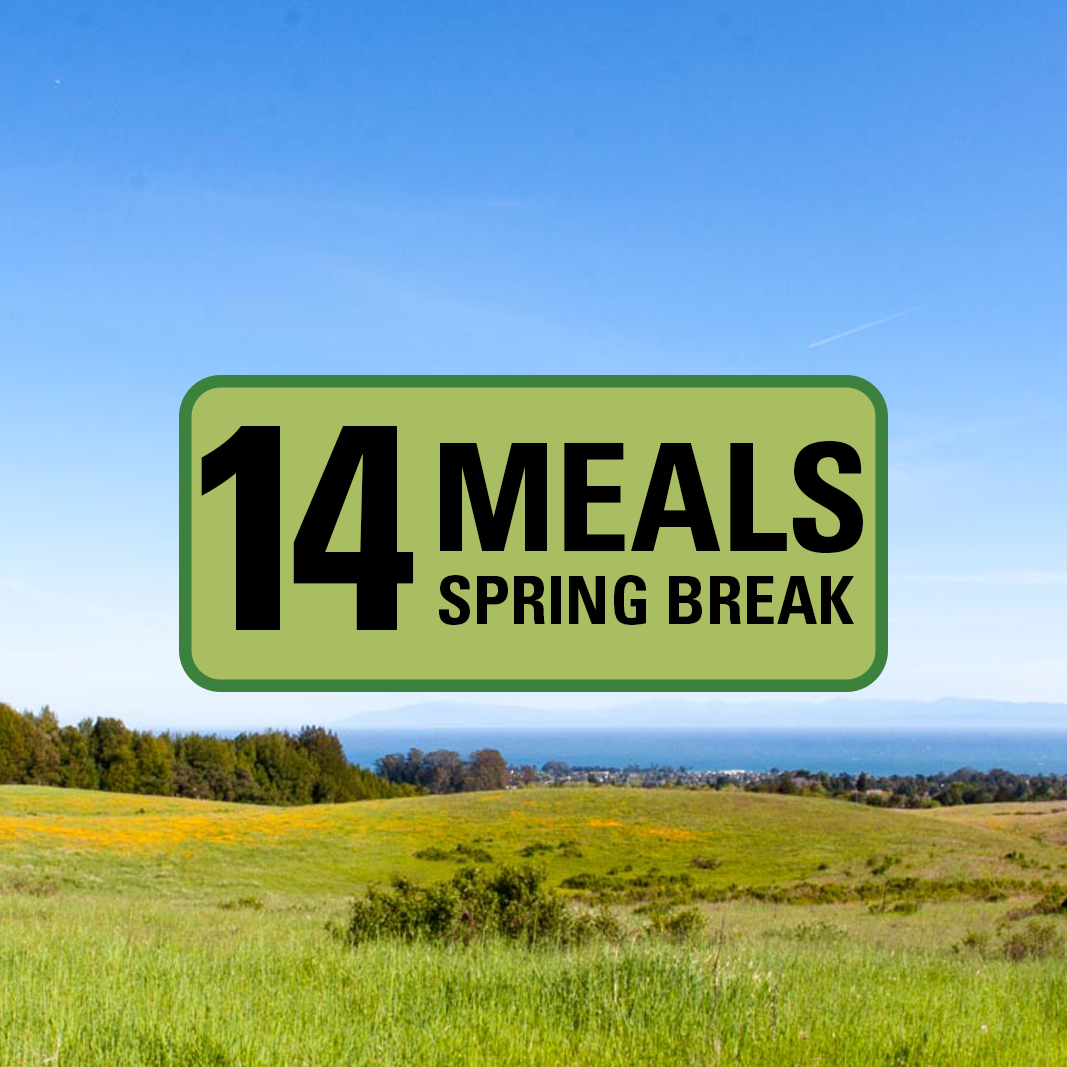 A special 14-meal Spring Break dining package is available for purchase on the GET app. With the package priced at $87.50, that's like getting 4 meals free!
Important: If you'd like to order dining hall meals during this weekend (3/20-21) and pay using a 14-meal Spring Break meal swipe, be sure to buy your 14-meal package by Thursday (3/18) to ensure these funds are ready to use. Packages purchased between Friday–Sunday will be activated on Monday (3/22). If you miss the cut-off this weekend, you can buy individual meals at $8.75 each by visiting the dining hall. The dining hall accepts Flexi Dollars, credit cards, and Slug Meals.
The last day to purchase this package is Tuesday, March 23. Plan to use up all 14 meal swipes by Saturday, March 27. Spring quarter 5-Day and 7-Day Meal Plans will activate on Sunday morning, March 28.
Dining halls will not use GET during break
The GET app will not be available for dining hall to-go meal orders during the break. To pick up a meal, visit your nearest dining hall and present your student ID to the cashier. GET app meal ordering and late night dining will resume on Sunday, March 28. 
---
Locations, Menu, and Hours
Dining Hall
Both the Crown/Merrill and Colleges Nine and Ten Dining Halls will remain OPEN for service during the spring break, Saturday, March 20 - Sunday, March 28. 
Daily hours of operation during the break:
Breakfast: 8AM–11:30AM
Lunch/Dinner: 11:30AM–8PM
Please visit your dining hall as many times as you wish during open hours, and order your meals from the cashier. Our chefs are preparing an exciting menu inspired by some favorite Spring Break destinations! Themes include the Lake Havasu BBQ, Hawaiian Holiday, and Caribbean Dreamin'. The menu with nutrition information will be available online.
Other Locations
The Market at University Center will be open during break, weekdays from 8AM–8PM. All other on-campus dining locations are CLOSED. 
Grubhub accepts Flexi Dollars! If you're craving something special, you may be able to get it delivered to campus, as 150+ merchants in Santa Cruz have partnered with Grubhub. You can use the UCSC Grubhub link for easy set-up, or visit our Flexi Dollar page to learn more. Here's how to add more Flexi$ to your account.
---
For Students in Need
The Dean of Students Office and the UCSC Basic Needs Team are available to provide support to students in need. To request assistance, please contact Slug Support.
---
Virtual Events
Please continue adhering to the Slug Strong guidelines, and avoid gathering in person. Learn all about Spring Break housing and fun activities.
Thank you, and enjoy your break!