Residence Hall Meal Plans
Our residence hall meal plans are designed to meet the needs of students living in campus residence halls. You'll select one of these meal plans when you apply for housing and it will be part of your housing contract.
Whether you need a full meal, a snack between classes, or just a cup of our delicious coffee, we make it easy for you to get what you want, when you want it! These meal plans offer unlimited entries to the dining halls each day, so you can eat what you want now, and know that you can return as often as you like. These plans also include 50 Flexi Dollars per quarter, which can be used at all cafes on campus. View room and meal plan rates »
---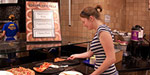 7-Day Meal Plan
Unlimited entry to the dining halls 7 DAYS/WEEK. Meals are "all you care to enjoy."
---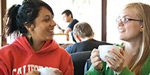 5-Day Meal Plan
Unlimited entry to the dining halls MONDAY-FRIDAY. Meals are "all you care to enjoy."
---
Changing Your Meal Plan
For students living in the Residence Halls:
Instructions:
See
Also