Slug Meals
NOTICE: April 1, 2021. All students who started using GET before February 15, 2021 should read 'Action recommended for GET app users,' and take the recommended action to avoid technical difficulties. This action only needs to be taken once.
Slug Meals make dining easy and affordable — only $9.82 per meal* (or only $8.75 per meal* when you buy in packs of 50 or 100). Slug Meals can be used at any open dining hall, and they expire at the end of the academic year in which they were purchased (June).
Get Free Meals, plus Free Flexi Dollars!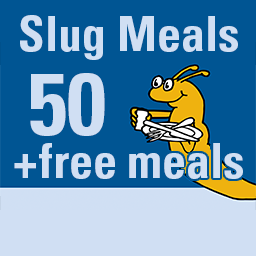 Use the GET app or website to purchase either 50 or 100 Slug Meals, and you'll get the lowest price on Slug Meals and receive free Flexi Dollars. 
Pay $875 and you'll get 100 Slug Meals, plus 5 bonus meals, plus 50 Flexi Dollars. Or, pay $437.50 and get 50 Slug Meals, 3 bonus meals, and 20 Flexi Dollars.
Alternatively, you can purchase smaller numbers of Slug Meals, in increments of five, for the regular price of $9.82 per meal.
How It Works
Slug Meals can only be used in UCSC dining halls.
Follow the instructions on How to Purchase Slug Meals
*Meals purchased by non-students are taxable.
Meals are non-refundable and expire at the end of the academic year in which they are purchased. Meals can be used until June 11, 2021.
Save with Slug Meals
Meal

Single-Entry Price
(with no meal plan)

Slug Meals
Discount Price

You Save!

Breakfast

$9.25

$8.75

$0.50

Lunch/Brunch

$11.25

$8.75

$2.50

Dinner

$12.50

$8.75

$3.75
See
Also