Slug Meals
On July 1, 2021, new Slug Meal rates will be published and become effective. Slug Meals for the 2021-22 academic year will be available for purchase after summer session. Rates for the current 2020-21 academic year are below.
Slug Meals make dining easy and affordable — only $9.82 per meal* (or only $8.75 per meal* when you buy in packs of 50 or 100). Slug Meals can be used at any open dining hall, and they expire at the end of spring quarter in the academic year in which they were purchased (Friday, June 11 at 12 noon).
Get Free Meals, plus Free Flexi Dollars!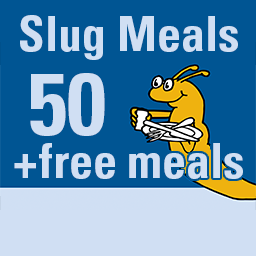 Use the GET app or website to purchase either 50 or 100 Slug Meals, and you'll get the lowest price on Slug Meals and receive bonus Flexi Dollars. 
Pay $875 and you'll get 100 Slug Meals, plus 5 bonus meals, plus 50 Flexi Dollars. Or, pay $437.50 and get 50 Slug Meals, 3 bonus meals, and 20 Flexi Dollars.
Alternatively, you can purchase smaller numbers of Slug Meals, in increments of five, for the regular price of $9.82 per meal.
Key Dates: The last day to purchase a 50 or 100 Slug Meals package during the 2020-21 academic year is April 30, 2021. During the month of May 2021, we are offering bundles of 20 Slug Meals at a discounted rate of $8.75 per meal. The last day to buy 20 Slug Meals is May 31, 2021. The final day to buy Slug Meals in any quantity is Friday, June 4, 2021. Remember: Use 'em, don't lose em! Slug Meals expire on June 11, 2021 at 12 noon.
How It Works
Slug Meals can only be used in UCSC dining halls.
Follow the instructions on How to Purchase Slug Meals
*Meals purchased by non-students are taxable.
Meals are non-refundable and expire at the end of the academic year in which they are purchased. Meals can be used until 12 noon on Friday, June 11, 2021.
Save with Slug Meals
Meal

Single-Entry Price
(with no meal plan)

Slug Meals
Discount Price

You Save!

Breakfast

$9.25

$8.75

$0.50

Lunch/Brunch

$11.25

$8.75

$2.50

Dinner

$12.50

$8.75

$3.75
*Charging tax at the UC operated dining locations: The sale of meals and food products are exempt from tax when sold or furnished to students by a public or private school. Carbonated drinks and alcoholic beverages are taxable except when sold as part of an exempt meal. This exemption on meals, etc. does not extend to faculty, university staff, or visitors when on campus.
-UC Controller's Office
See
Also