UCSC Dining has been assisting students on a case-by-case basis to address issues experienced on the GET platform. 
A common scenario has been identified in which the customer attempts to make a credit card purchase and the charges go through with a pending status. Unfortunately, the customer will not receive an automated message indicating the transaction status. Consequently, some customers attempt the purchase more than once, finding themselves with many pending charges. These pending charges are automatically refunded, however that process can take 3-5 business days (and sometimes up to 9 business days).
The CBORD group maintains the GET app and website, and is aware of the issue. In response, a new version of the platform is scheduled for release on February 16, 2021.
Until then, all customers are encouraged to delete and then re-enter your stored credit card information on the GET platform. Unfortunately, neither CBORD nor UCSC Dining can complete this process for you. 
Follow these simple steps to reduce your chances of experiencing this issue:
Step 1: Using a laptop or desktop computer, navigate to get.cbord.com/ucsc in your web browser. DO NOT use the app on your cell phone or mobile device for this procedure.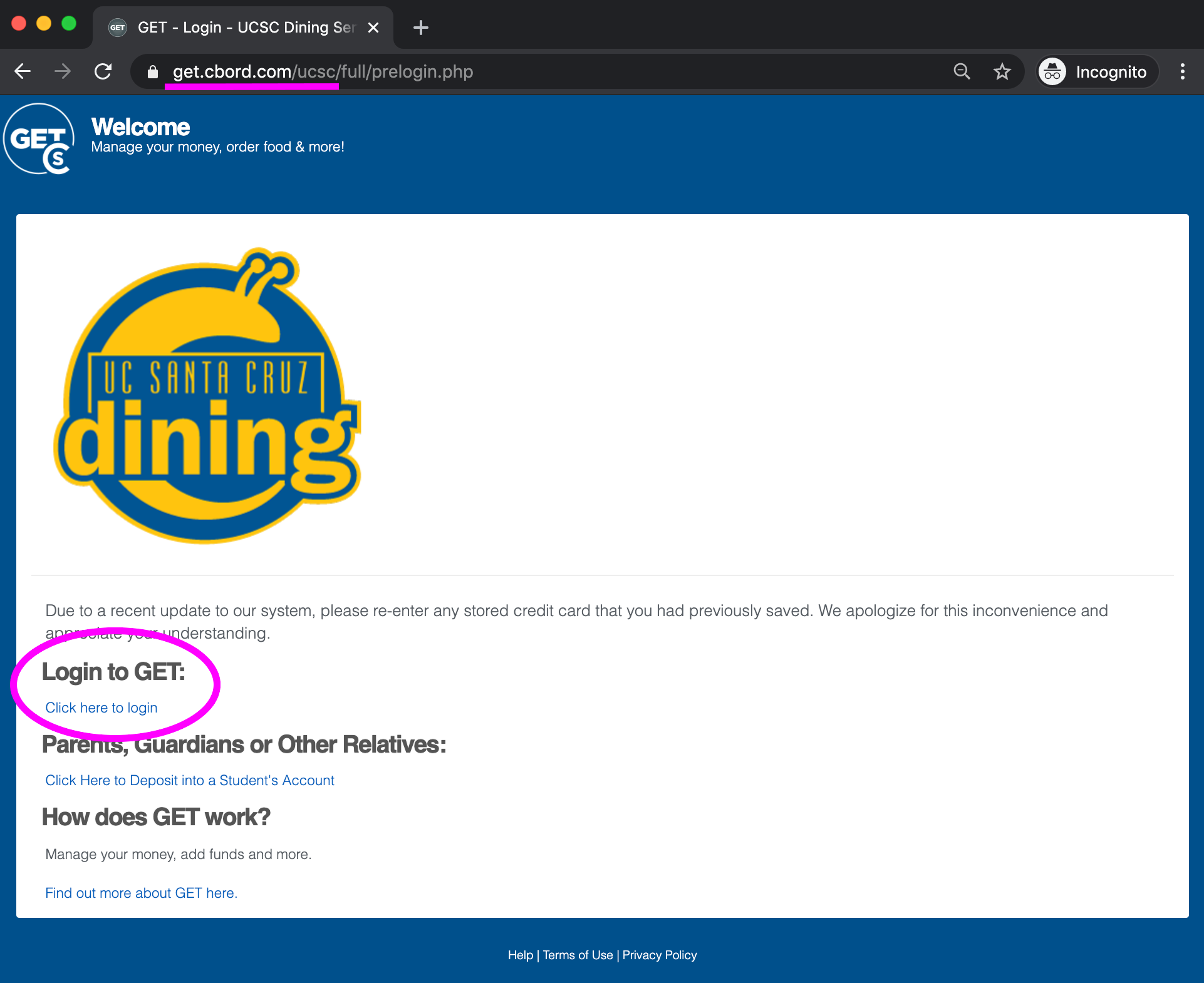 Step 2: Log in using your CruzID and Gold Password. If you do not know your Gold Password, please contact ITS for support.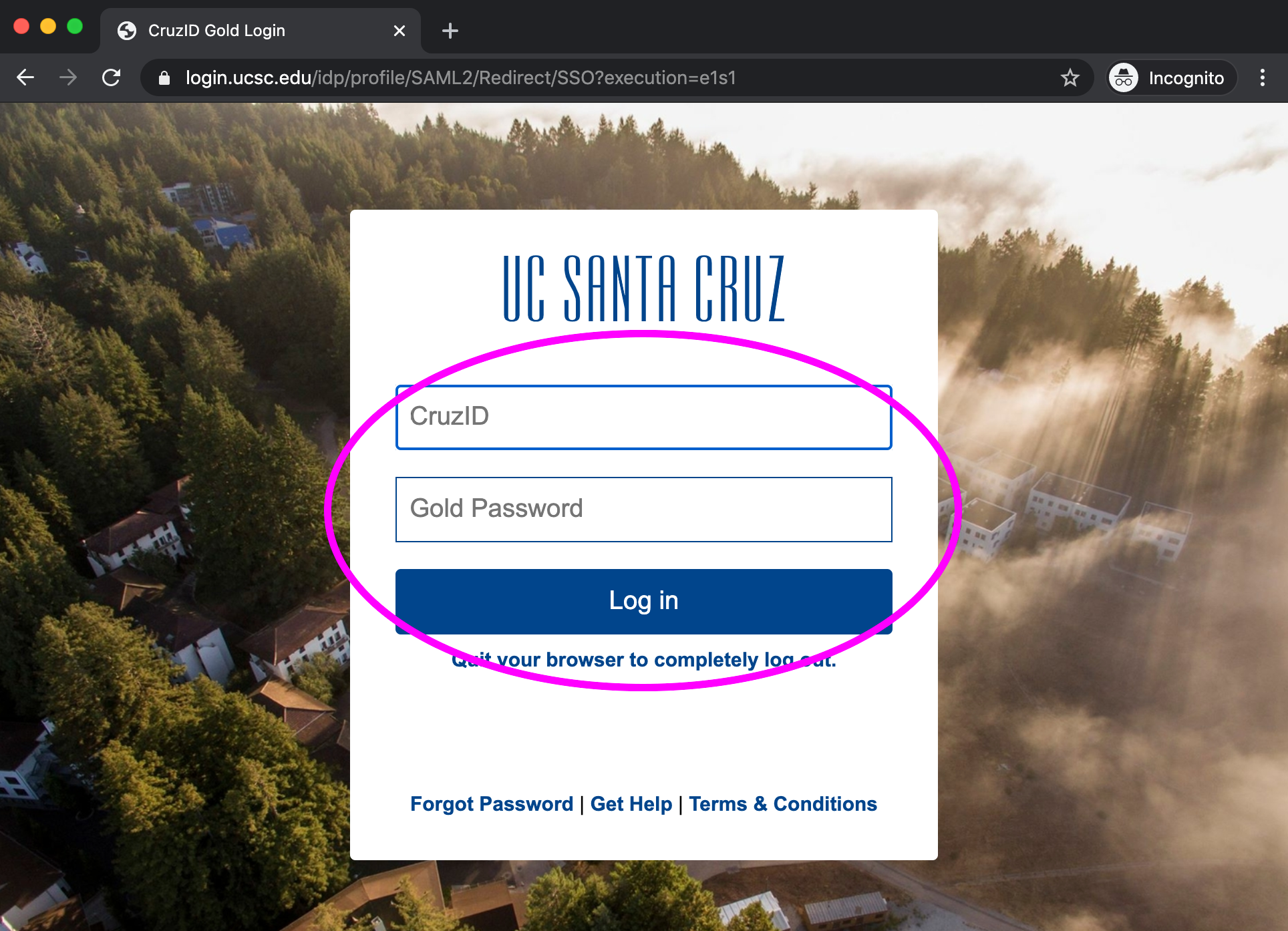 Step 3: Complete the Multi-Factor Authentication process.
Step 4: Click the Settings icon located in the top navigation on the right side of the screen.
Step 5: Click the trash can icon next to your stored credit card(s) to delete the card information. You can re-enter this same card information, or a different card, in the next step.
(If you have never used a credit card for a transaction in GET, the Stored Credit Cards section will already be empty, and you can skip to the final step of logging out.)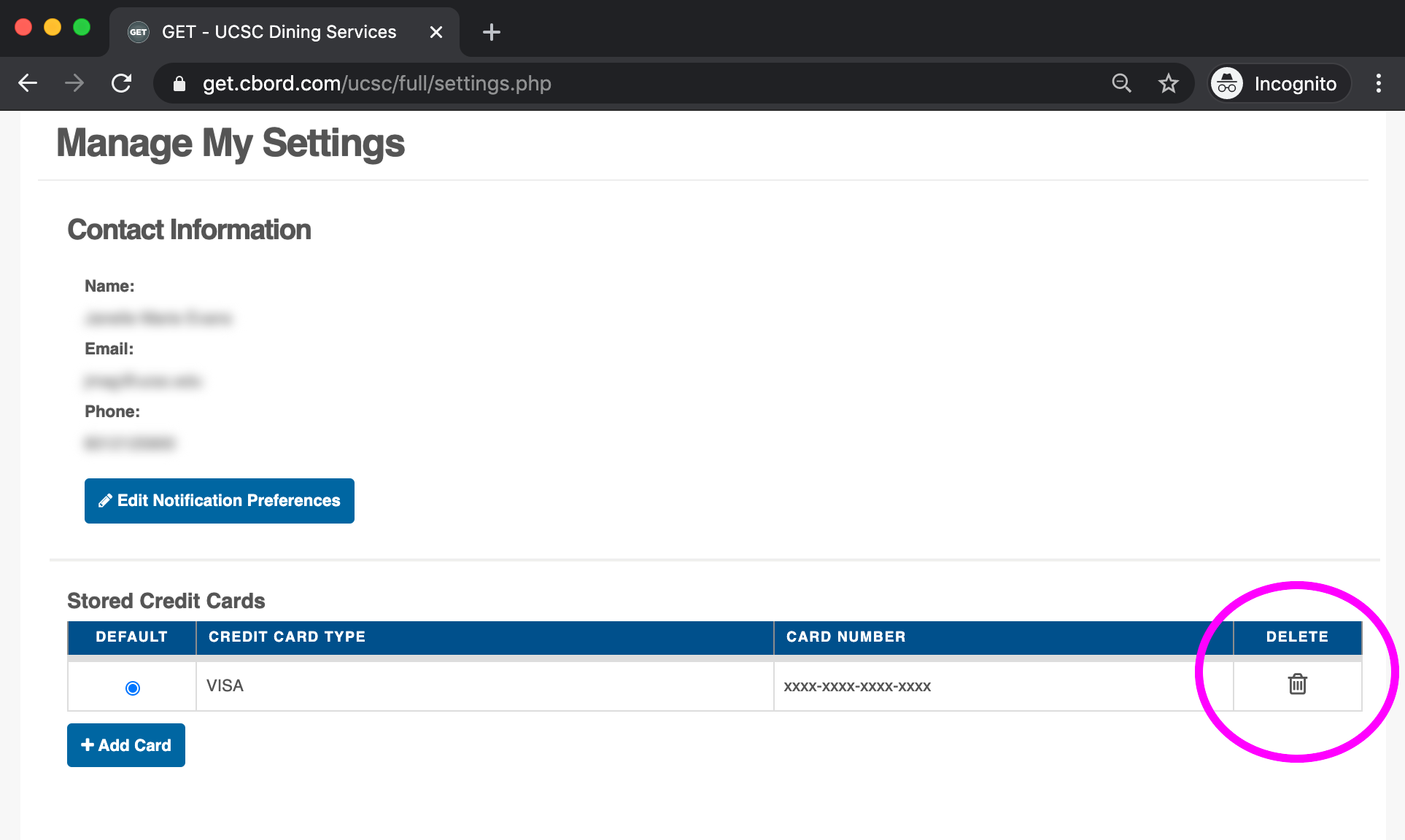 Step 6: Once all credit card data is deleted, click the Add Card button.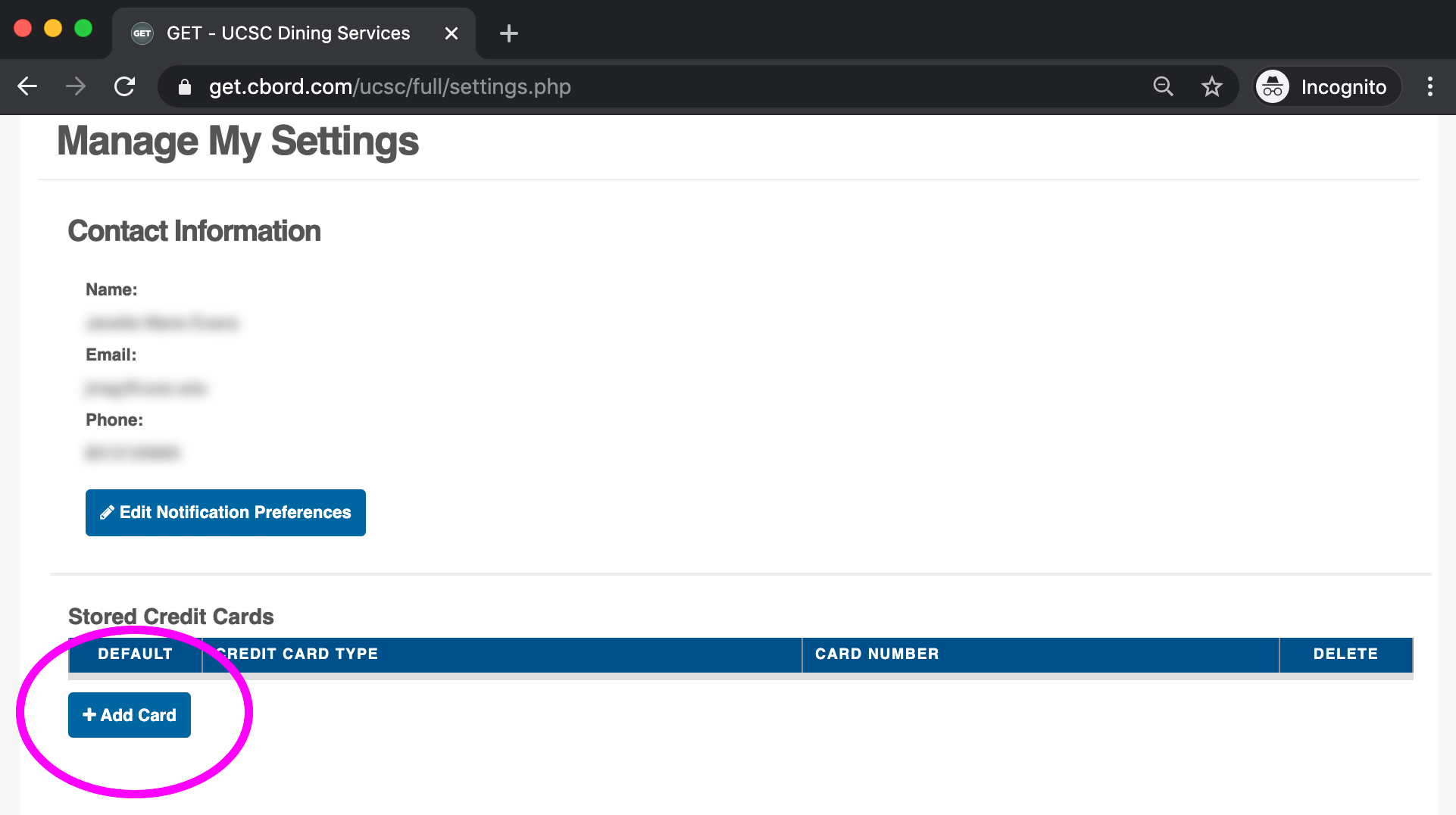 Step 7: Enter your credit card details and click the Add Card button. You can use the same card you just deleted, if desired.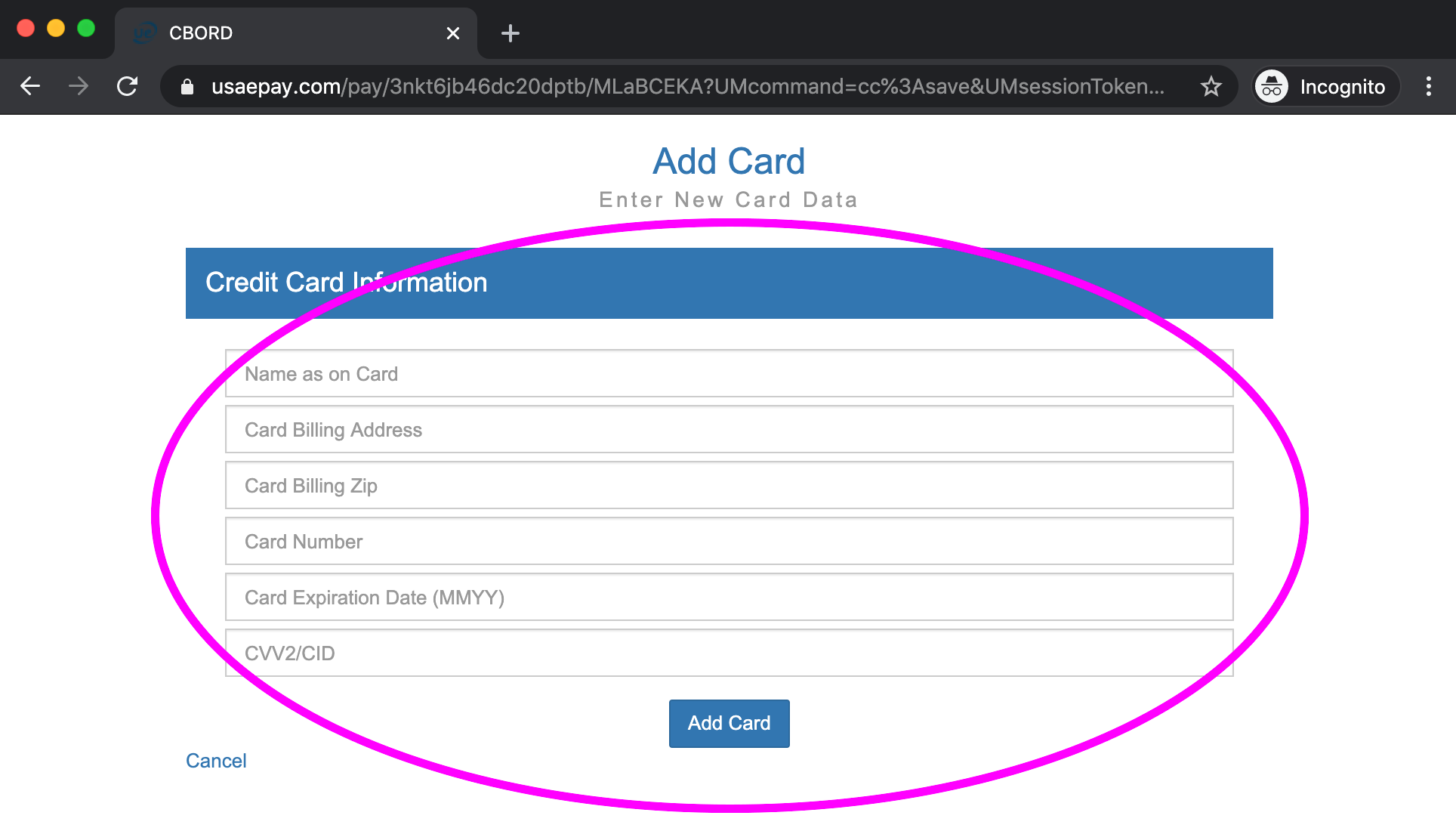 Step 8: Once you see the notification that the card was successfully added, click Logout and close your browser window to complete the logout process.