Please note: The "Order Ahead for Pick Up" function in the GET app has been turned off for the foreseeable future. Please visit a UCSC Dining location in person to get food. Check real-time crowd levels at the 4 UCSC Dining Halls and Oakes Cafe »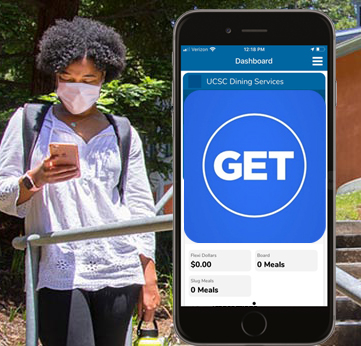 Thanks to the persistence and creative problem-solving of our Dining Systems Team, UCSC Dining is pleased to announce the 'GET' ordering platform is now available for faculty and staff! 
Students have been using the GET app and website since fall quarter to order their meals in advance. This has enabled us to offer a contactless dining experience during the COVID-19 pandemic.
The benefits of using GET extend beyond our pandemic response. Faculty and staff have long-wanted a fast and easy way to pick up lunch on-the-go. 
Now you can order a meal in advance from either of our open dining halls or from The Market at University Center, and it will be ready at your chosen pickup time.
Currently, all dining hall meals must be ordered to-go. Learn more about our current operations and customer guidelines by visiting our COVID-19 response page.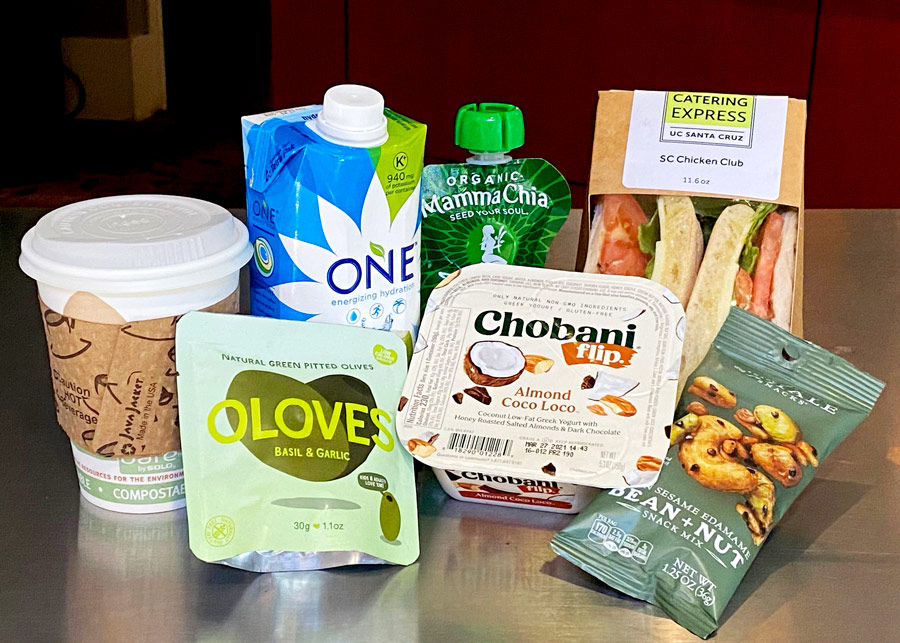 "I think the campus community is going to enjoy ordering ahead using the GET app," said Dining Executive Director, Bill Prime. "Our dining halls offer a nice variety, and everything's made-to-order. Hot, cold, vegan, vegetarian, gluten-free, we have something for everyone. And every order is customizable, right at your fingertips with the GET app."
The Market, located above the Colleges Nine and Ten Dining Hall, does allow walk-in customers though ordering ahead with GET is encouraged. This location is currently the only place on campus to get espresso drinks, grab-and-go foods, pastries, fresh produce, and snacks.
"We're also looking ahead to when campus returns to normal operations, or at least a new normal," Prime continued. "Once campus welcomes back more students, and our colleagues return to their offices, ordering ahead at our cafes with the GET app will be an important timesaver. It will allow faculty and staff to have enough time to pick up and enjoy a meal before their lunch break ends."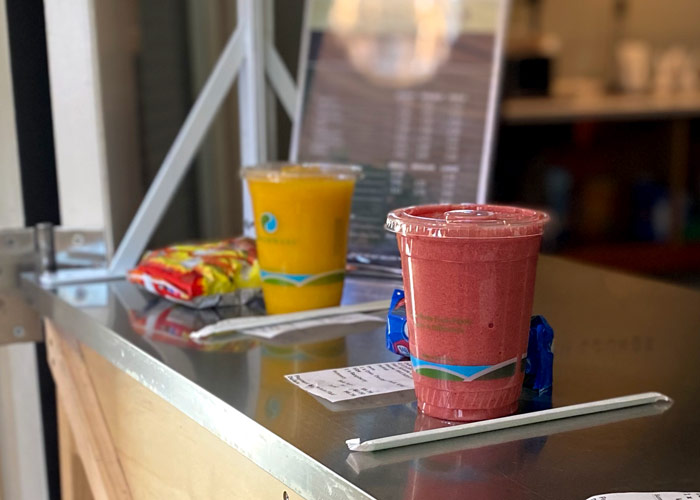 All faculty and staff members also have the option to purchase a Meal Plan, Slug Meals, or Flexi Dollars, and take advantage of dining discounts. For example, when you pay for a meal using Flexi Dollars, you get 10% off your order. Details about meal plans and discounts can be found on our faculty and staff meal plans page.
To get started with online meal ordering, fill out this form to request access to the GET platform. You only need to take this action once. A member of our team will process your request and send you a welcome email. Learn how to use GET by watching our tutorial videos. For additional technical support, email us at get-admin-group@ucsc.edu.