Flexi Dollars
Flexi Dollars are "food dollars" that are accessed with a student's university ID card, and can be spent like cash at dining halls and all on-campus restaurants, cafés, coffee bars, and convenience stores. Flexi Dollars are also accepted at UCSC's Bay Tree Bookstore for books, school supplies, apparel, and more.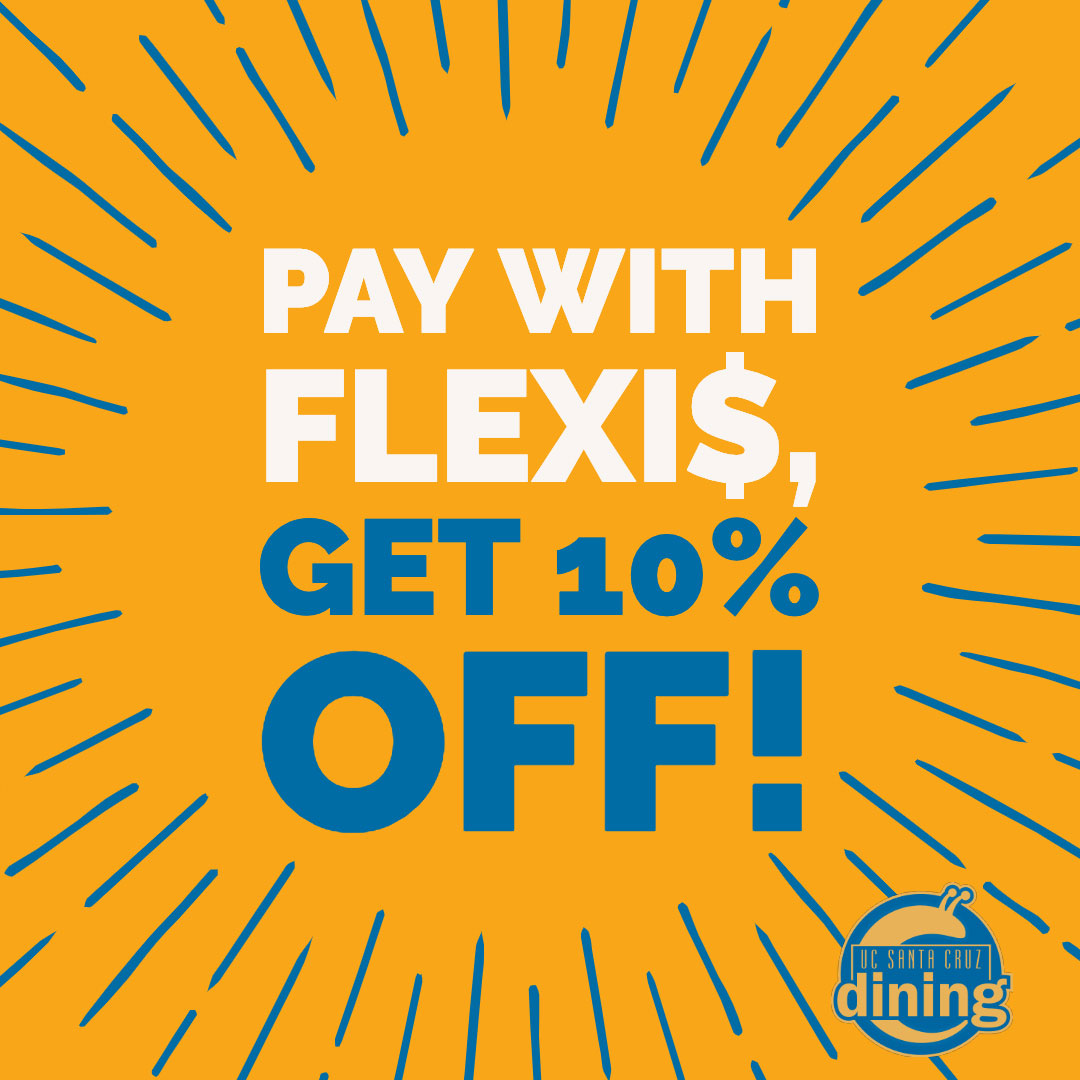 Enjoy a 10% discount at dining halls and UCSC Dining-operated cafes and coffee bars when you pay with Flexi Dollars.
How To Purchase
Students:

Instantly add Flexi Dollars to your account with the GET website (get.cbord.com/ucsc) or the GET mobile app (see buttons below) and your credit card. Parents can also add Flexi Dollars to their student's account through GET. 

Faculty and Staff: Make your initial purchase and receive your Flexi Dollar card at the Campus Housing Office (104 Hahn Student Services). Once you have a card, purchase additional Flexi Dollars at any dining hall.
How It Works
Flexi Dollars can be added to any meal plan or purchased alone.
Use at cafés, coffee bars, and all dining halls for flexibility and convenience. Every dining venue on campus accepts Flexi Dollars.
Unused Flexi Dollars automatically roll over from quarter to quarter and to the next academic year.
After two years of inactivity on your Flexi Dollars account, any remaining unused Flexi Dollars shall be forfeited and become the property of the University.
---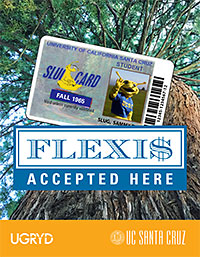 Use Flexi Dollars Off Campus Too
Use your Flexi Dollars at these off-campus locations. Tip: Off-campus partners typically have just one cash register that accepts Flexi Dollars. Ask before waiting in line!
7-ELEVEN (Store #14282), 218 Cardiff Place, Santa Cruz, CA
CVS #09331, 600 Front Street, Santa Cruz, CA
CVS #09332, 1700 Mission Street, Santa Cruz, CA
Domino's Santa Cruz, 2391 Mission Street, Santa Cruz, CA
Nick the Greek, 1133 Pacific Avenue, Santa Cruz, CA
Pizza My Heart, 1116 Pacific Avenue #B, Santa Cruz, CA
Snap Taco, 1108 Pacific Avenue, Santa Cruz, CA
The Penny Ice Creamery, 913 Cedar Street, Santa Cruz, CA
Woodstock's Pizza, 710 Front Street, Santa Cruz, CA

Interested in accepting Flexi$ at your business? Contact us at dining@ucsc.edu 
---
Discounts Available
10% off at UCSC Dining-operated locations, including dining halls, cafes, and coffee bars (Banana Joe's, College Eight Cafe, Oakes Cafe, Perk Coffee Bar: Baskin, Perk Coffee Bar: Earth & Marine, Perk Coffee Bar: Physical Sciences, Stevenson Coffee House, Terra Fresca Coffee Bar, Terra Fresca Restaurant).
Free dining hall entry: Add $50+ Flexi Dollars to your card at any dining hall, and get one free entry into the dining hall, to be used immediately following the transaction.
Flexi Dollar Refunds
Flexi Dollar refunds are available for balances over $10.00. Refund requests are only accepted at the end of the academic year (June 1 – 30). Students can request a refund at Student Housing Online.
See
Also